Mindfulness Based Stress Reduction Course - 8 weeks, online
---
20th Apr 2022 - 8th Jun 2022
UNTIL Wednesday 8th June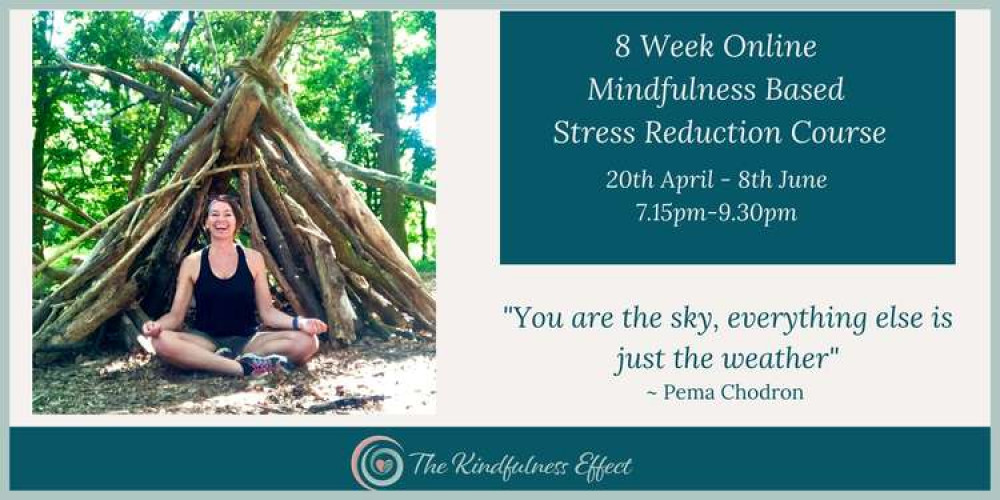 The Mindfulness Based Stress Reduction Course (MBSR) is the most researched mindfulness course globally, with evidence supporting its effectiveness.
It has been proven to;
Reduce stress, overwhelm, anxiety and depression
Improve overall mental wellness and happiness
Build resilience and create balance
Reduce self-criticism, while enhancing compassion for yourself & others
Help to manage physical and emotional pain
Increase creativity, patience and emotional intelligence
As well as many other benefits Next course starts: April 20th – June 8th @ 7.15pm - 9.30pm
Build your understanding of mindfulness week on week within a supportive community.
Investment: £175 until 1st April.
£195 after this date.
Price includes all materials, meditations, half day retreat, membership of alumni group with future discounts, offers & ongoing support You can find 5 star reviews on Google. Learn and experience the power of mindfulness and meditation. Bring more balance, calm, and resilience into your life. Enhance your own well-being and learn one of the most valuable life skills there is.... This course is for individuals, or companies can sponsor places for employees. Click
here
for more information
Add your Twickenham event for FREE here!
Nub It