Queues at Ukraine donations hub as generous residents hand over emergency items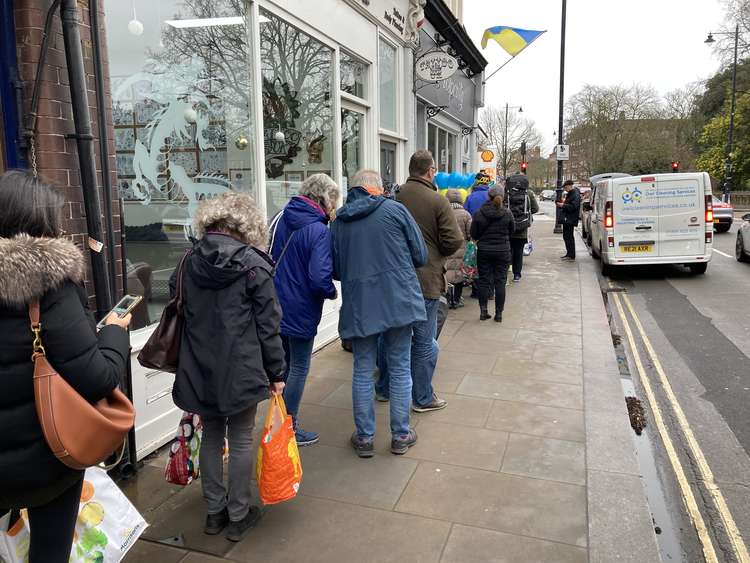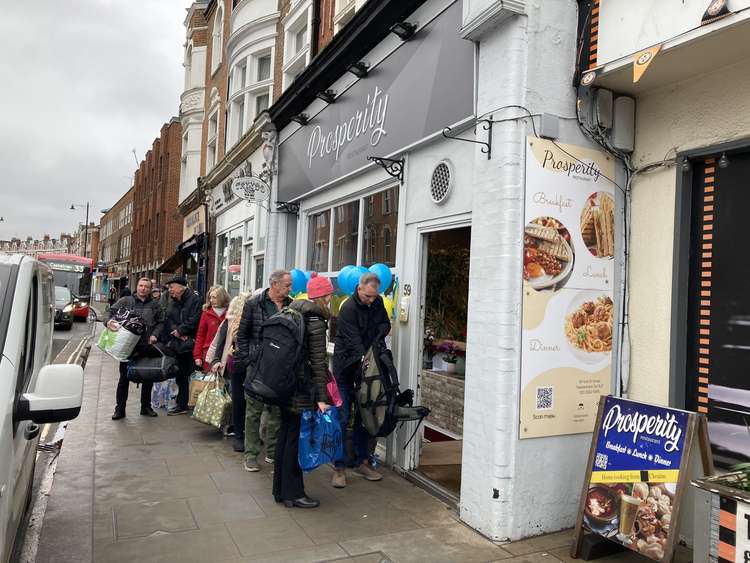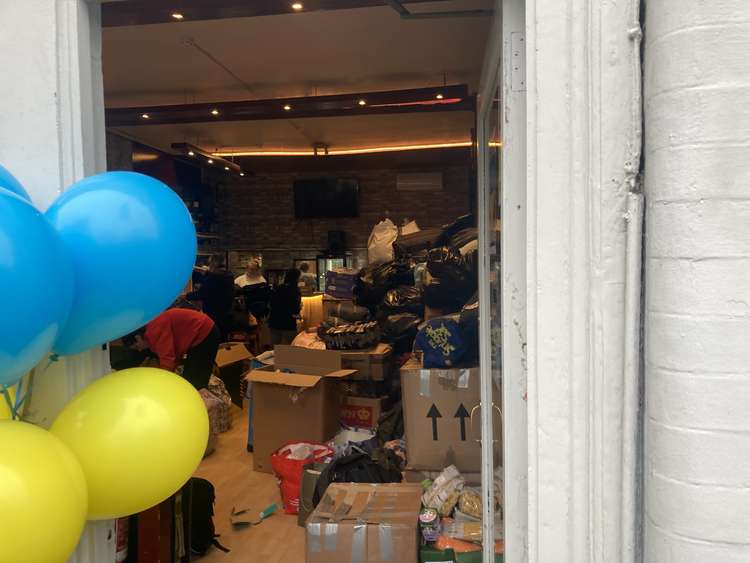 A restaurant at the centre of local efforts to collect urgently needed items to help the people of Ukraine has been overwhelmed with the response.
Residents from near and far lined up outside The Prosperity, in Twickenham, carrying everything from toiletries and duvets to large rucksacks to be sent off to Lviv.
The Ukrainian restaurant, in York Street, was a hive of activity as the busy volunteers received and sorted growing piles of desperately needed items.
The queue of people has been consistently growing since the restaurant started accepting donations at 11am today.
Council leader, Gareth Roberts, said: "Prosperity cafe are doing a great job, taking donations for those enduring or fleeing violence in Ukraine. People are being incredibly generous
"Today I visited and have offered use of one of our largest meeting rooms at York House as overspill storage should they need it."
Lib-Dem councillor for Whitton, Rob O'Carroll, cheered the scale of donations, saying: "Never been more proud of the people of Twickenham. Prosperity is getting rather full."
Cllr Avril Coelho said: "Today I saw so many people in the community in our Borough come together in support of the efforts Prosperity, York Street, Twickenham are making to help with the humanitarian crisis."
The Richmond mayor, Cllr Geoff Acton, who visited the collection hub, said: "Helen and her team are collecting supplies to ship to Ukraine via Poland with daily consignments….They need mobile phone charger packs, medicines, baby milk, warm clothes, hot water bottles, sanitary items."
Richmond College is supporting the work. A spokesman said: "We're collecting donations for Ukraine in Student Services, who will be acting as a collection point this week.
"Donations will be taken to Prosperity Ukrainian restaurant in Twickenham who are arranging a truck to Lviv."
BBC journalist, Tanya Hines, encouraged people to donate. She said: "Just dropped off sleeping bags, medical supplies, First Aid kit, sanitary towels, power bank, groundsheet to Prosperity, Twickenham...Feels good to help even if only in a small way."
The list of items The Prosperity is currently requesting includes:
- Power banks (for phone charging)
- Large and medium size backpacks
- Male socks
- Camping mats
- Sleeping bags
- Protein bars/ energy bars
- Anti-flu medicine (Lemsips etc)
- Wound dressing materials
- First aid kits
- Warm blankets
- Thermals/ base layers
- Hot water bottles
- Insulated flasks
- Baby food
- Nappies
- Feminine sanitary products
At this stage, the intention is to take a truck of supplies to Lviv, which is a city in western Ukraine, around 70km from the border with Poland.
Prosperity is one of a handful of locations across the capital which are collecting emergency supplies to help both refugee families and the volunteers fighters.
The restaurant is also offering a special lunchtime menu to raise funds to support families caught up in the war.
Speaking in the House of Commons today, the Twickenham MP, Munira Wilson, urged the Home Secretary to offer a more open visa regime for people escaping Ukraine.
She referenced the parable of the Good Samaritan, saying: "In the parable, the Good Samaritan is very generous and compassionate when he stops to help a complete stranger.
"He doesn't stop to check their family connections, or whether a suitable sponsorship scheme has been set up or their papers.
"Could I ask the Home Secretary if she will go further still and establish, urgently, a scheme that is open to all those that are fleeing war and persecution now at the hands of Putin's forces?"
Priti Patel responded with a statement which the Twickenham MP later said made no sense. The Home Secretary said: "All our work on humanitarian aid relief and settlement, or support of refugees, is based on our work directly with the Ukranian government and countries in the region."
Richmond Park MP Sarah Olney said: "It is shameful that we are having to drag the Government inch by inch towards making a real commitment to the Ukrainians now fleeing Putin's war machine.
"Even as the Russian missiles rain down and a huge convoy advances on Kyiv, the Home Secretary is still refusing to open a fast and simple refugee scheme for Ukrainian refugees. Worse, she is pressing ahead with her Anti-Refugee Bill that would criminalise any Ukrainians who come here to seek asylum.
"The Government should withdraw that Bill, and immediately establish a fast, safe route for Ukrainian refugees to come to the UK.
"Our country has a proud history of providing sanctuary to people fleeing war and persecution. We must not abandon Ukrainian refugees in their hour of need."
Ukrainian national, Liudmyla Ponych, of East Twickenham, who came to the UK three years ago, said: "We are a peaceful country that wants to live in a democratic and independent country. Please support Ukraine, pray for Ukraine.
"Ukraine has its own culture, its own history, its own language.
"Ukraine is a sovereign country. Ukraine is not a "part of Russia", it wasn't and will never be."