Bartlett and partners explain - Why we are more 'expensive' than other estate agents in Richmond, Twickenham & Teddington
Bartlett and partners explain - Why we are more 'expensive' than other estate agents in Richmond, Twickenham & Teddington
---
---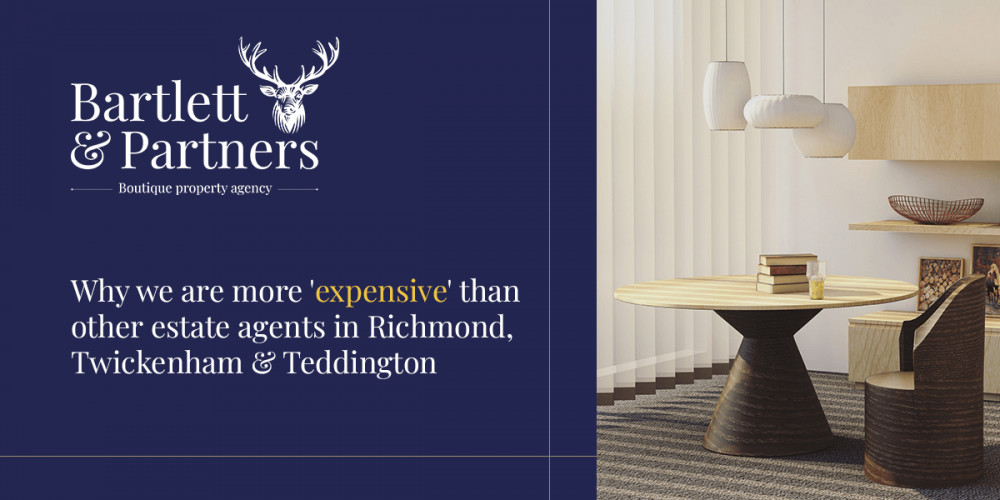 Bartlett and partners explain - Why we are more 'expensive' than other estate agents in Richmond, Twickenham & Teddington
Anyone who has lived in the London Borough of Richmond upon Thames knows its leafy riverside neighbourhoods sell themselves. Yet when selling your house in the area, it's a different story. You'll probably benefit from expert assistance, however charming the surroundings.
As luxury estate agents in Richmond, Twickenham and Teddington, we're well-placed to help you sell your property. However, we're not like any other London estate agents (or any estate agents, for that matter!)
We want to be open and transparent with you because we know our industry isn't the most trustworthy, and that's why we're publishing this blog post, which will tell you:
Why our agency fees are higher than others
What our agency fees are (because many agencies aren't upfront about this)
Why paying a higher agency fee can be better for you financially in the long run!
Read on to learn more about our fees, what they will get you and the service you can expect from us.
How much are our estate agency fees in Richmond, Twickenham and Teddington?
Let's address our fees. It's better to have them out in the open so you can make your decision.
According to The Advisory, the average high street estate agent fee is 1.18% (plus VAT). But we're not a high street estate agent – and we're definitely not average. Bartlett & Partners charge a flat rate of 2% plus VAT.
Some other estate agents in Twickenham, Teddington and Richmond will negotiate and lower their fees, but Bartlett & Partners set a flat rate for everyone. We want to keep our fees fair since every single client benefits from the same highly-personalised service. We'll always make sure you know what's included in those fees when you sign up.
Other estate agents in Richmond vs Bartlett & Partners
We're honest and upfront about our fees – and yes, we are a bit more expensive than other estate agents in the area. But how do we compare to the competition, and are we worth it?
Other Richmond estate agents charge less than 2%, and on the surface, you might think it's a better deal to go with another agency. In reality, however, other agencies might not offer as much practical value.
So what do you get for your fee?
What's included in our estate agent fees?
We're completely transparent about what's included in our fees. Here are some things you DO get vs our competitors:
Personal service from Darren and Kristian – you never get passed on to junior agents for viewings or communication, even at weekends.
WhatsApp group between you and us – so we can communicate with each other on a regular basis.
Only short-term (4-week) contracts – unlike other agents that hold you to a 12-week contract (or longer) as standard.
An honest, realistic valuation for your home, with an aim to secure a higher price – we will never over-value your property just to get your business, and then force you down on price later.
Time spent getting to know you and your house – so Darren and Kristian can extend viewing times and share in-depth knowledge with potential buyers.
Marketing with high-end photography, drone videos and unique, accurately written property descriptions – so your property has the best opportunity to sell fast at a good price.
Selling your home launch – we create a real buzz around your property on 'opening weekend'.
One of few clients means you get more attention and resources – some estate agencies have 50, 100, or 150+ properties on their books. We only have a maximum of twenty clients at any given time, so we can properly market and show each property.
Proactively marketing on many different channels – we don't just add your property and some photographs to Rightmove. We actively promote your property on social media platforms (with up to 30K followers) as well as the expected property search websites such as Zoopla and Rightmove.
Our Estate Agency Fees in More Detail
Unlike other estate agents in Twickenham, Teddington and Richmond, we get to know every client and property. With more than three decades of industry experience at the very top of the residential market, we intentionally work with fewer clients to provide a truly personalised service.
We also conduct all viewings, and you'll never be fobbed off with weekend viewing assistants. Weekend viewing assistants usually have different jobs in different industries from Monday to Friday. They aren't up to date with your home or the area, and they typically rush people through your home in as little time as possible. We (that's Darren and Kristian) are the faces of the business – and you'll be familiar with our faces right from day one until you the day you sell. We personally show your property to potential buyers, and we never rush interested parties through viewings. We want to build long-lasting relationships with our clients based on honest, straightforward communication and trust. Essentially, we want to be your estate agent for life.
Some estate agencies have reputations for valuing your property highly (only to force you to reduce later). This means you lose that initial buzz and excitement around your property when it's first listed on the market. Our exceptional knowledge of the local real estate market in Richmond ensures we understand the value of your home and will stick to high but attainable prices.
We'll tailor all marketing to attract your ideal buyer. Sloppy copy-and-paste descriptions will never see the light of day on our website and listing platforms. From staging to videography, we have access to a network of suppliers who can present your home for maximum impact.
Why higher fees actually offer better value when selling your home in Richmond, Twickenham & Teddington
We charge a 2% fee because we deliver outstanding value for our clients. We build a lot of hype and excitement around properties with knock-your-socks-off marketing and staging. Our marketing strategy includes professional photography, bespoke videography, detailed descriptions and floor plans. This type of advertising elevates a property's presence across multiple channels and platforms but significantly increases our costs.
Like other estate agents in Richmond, our fee also includes valuation, viewings, open houses, negotiations and liaison with prospective buyers. But we really stand out for the level of personal investment in each client and property. While other high-end competitors take the quick viewings approach, getting as many people through the door as possible, we take the time to nurture buyers. By deliberately keeping a small portfolio of properties, we can devote more time to each client, offering tailored tactical advice and feedback at every stage of the process.
Our team has an unrivalled knowledge of the Richmond, Teddington and Twickenham real estate market. In the rare case that we can't help you with something, we'll know someone who can. From conveyancing solicitors to independent financial advisors, we'llput you in touch with tried and tested experts to ensure a successful sale.
From 18 months on the market to sold in four weeks with us!
When paying higher fees, you can and should expect an exceptional quality of service. One of our recent clients came to us with a stunning 16-acre estate that had been on the market for 18 months. We sold it for £5 million within four weeks. How? Our approach differed from previous high-end estate agents who whizzed through viewings in 15 minutes. We booked 2-hour viewing slots to let potential buyers get a real feel for The Grange. Adjacent to National Trust land, with stables, a pool, a gym and far-reaching views, it needed its many selling points to be highlighted. We showcased the unique charm of the estate in premium marketing collateral, including a video introduction to the house with drone footage.
It's this kind of value and service that saves time and money in the long run, and we know our client was delighted with the speedy sale. Do you want to save a fraction of a percent, or do you want to sell your home at the right price (and quickly)?
Are we really more expensive in the long run than other estate agents in Richmond, Twickenham & Teddington?
Bartlett & Partners is serious about selling your house quickly. Other estate agents in Teddington, Twickenham and Richmond have lower fees, but it may take longer to sell your home.
A long sales process is frustrating, stressful and expensive. Think about how much it would cost to have your home sitting on the market for months unsold. To have to spend weekend after weekend for months on end, preparing for viewings - having to make sure everything is 'viewer ready'.
Or how much would it cost to potentially reduce the price of your home multiple times so it lines up with the market value? You'd miss out on that initial 'new property launch', which is, in our experience, one of the key factors in selling your home fast.
Or what if the sale fell through because of a lack of communication and nurturing with your potential buyers?
We know this sounds dramatic, but we see these issues time and time again with other estate agencies. They not only add higher costs to the sale of your home but more stress and emotional burden for you and your family.
A good question to ask yourself is: is it worth it?
As a sidenote, be careful of hidden costs. Bartlett & Partners' fees are transparent and inclusive, but other Richmond estate agents might charge extra for services such as transaction management, videography or floor plans. Always check what the fees include.
Selling your home fast is our priority
We put so much effort into finding the best buyer quickly that it's likely your house will sell in the first three months of going to market. This means you'll avoid reducing the price of your property and the inconvenience of waiting for a sale.
More importantly, you and your family will be able to settle into your new dream home and enjoy making new memories.
Do you still think Bartlett & Partners is 'expensive' compared to other estate agents in Richmond?
Higher fees can result in a better overall property-selling experience. As one of the best Richmond estate agents, we do charge slightly more than our competitors, but we're sure you'll find the higher fee is worth the convenience, speedy sale and bespoke experience.
Bartlett & Partners is renowned for its skilled and experienced Richmond and Twickenham estate agents, whose reputation and local market knowledge attract serious potential buyers who are more likely to make competitive offers.
We understand that higher fees lead to higher expectations. Fortunately, we're used to exceeding expectations! You'll enjoy a truly personalised service with access to the directors – the same person will conduct your valuation and all viewings.
When choosing an estate agent in Richmond and its surrounding areas, it's essential to carefully evaluate the services, reputation and track record, whatever their fees may be.
If you're thinking of selling your home, please get in touch – we would love to help you.