Glory awaits running stars forged at St Mary's University in Twickenham and on the trails of the Royal parks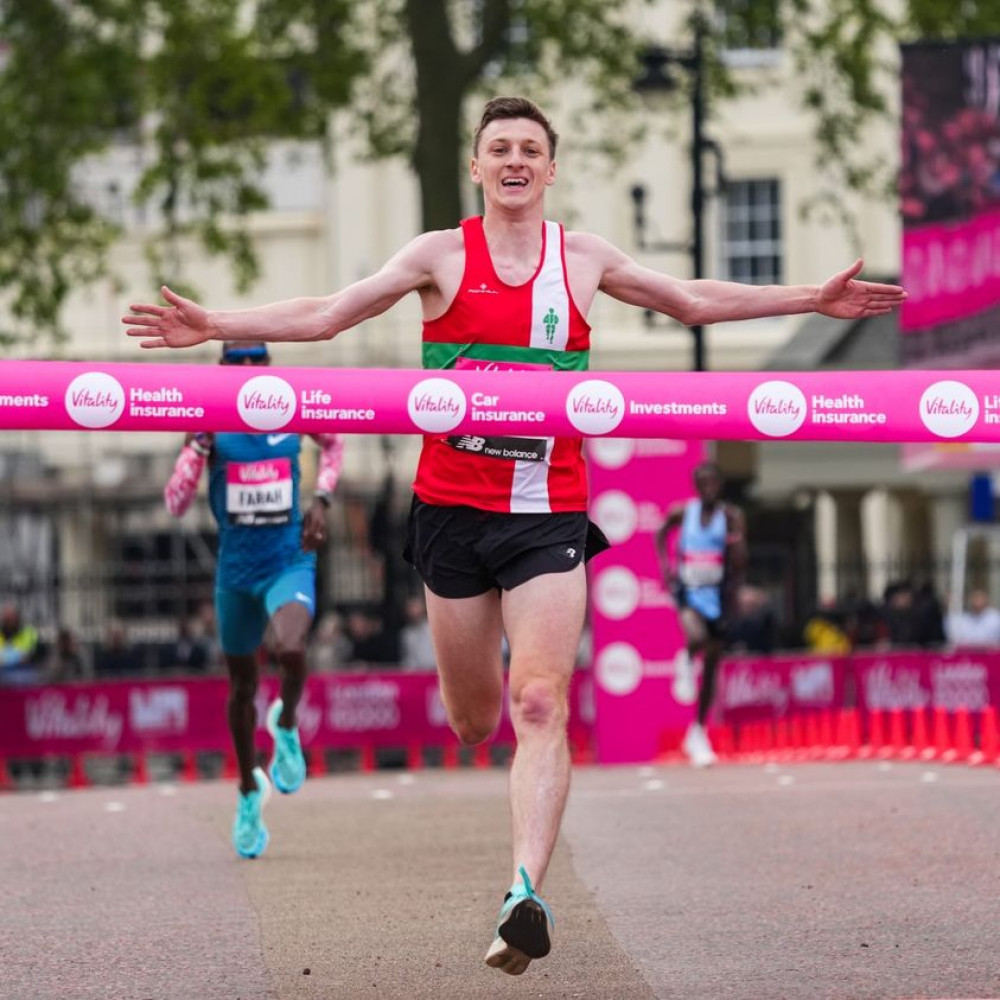 Recent race successes have turned the spotlight on St Mary's University, which is fast becoming recognised for its role in nurturing Britain's future long distance running talent.
Ellis Cross, aged 25, has become the latest young star who studied at the Twickenham university to make his name on the national stage.
Just recently, the sports science graduate hit the headlines after he famously beat Sir Mo Farrah in the Vitality London 10k in a personal best of 28.40.
Sir Mo is closely associated with St Mary's, where the track has been named in his honour and he serves as an icon and inspiration to its students.
Ellis is currently working in the Up & Running sportswear store in Teddington while training hard towards his goal of making a career out of becoming a full-time professional athlete.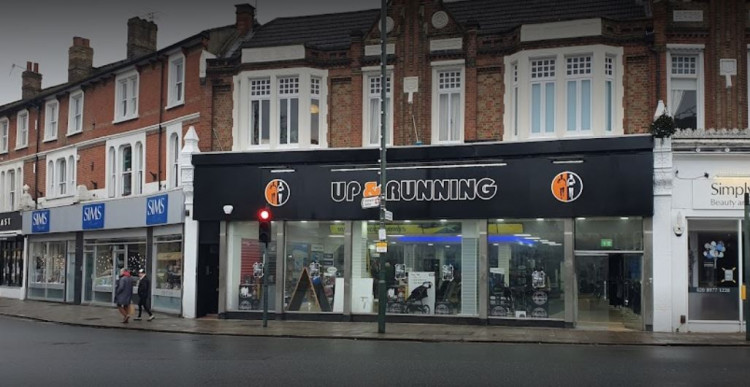 Credit: Up & Running.
A relative unknown in terms of elite runners, he turned out after a long day on his feet serving customers and had to pay his own £37 entry fee to make it to the start line.
His training regime involves many miles on trails through Bushy and Richmond parks – as is the case for many other young athletes based at St Mary's.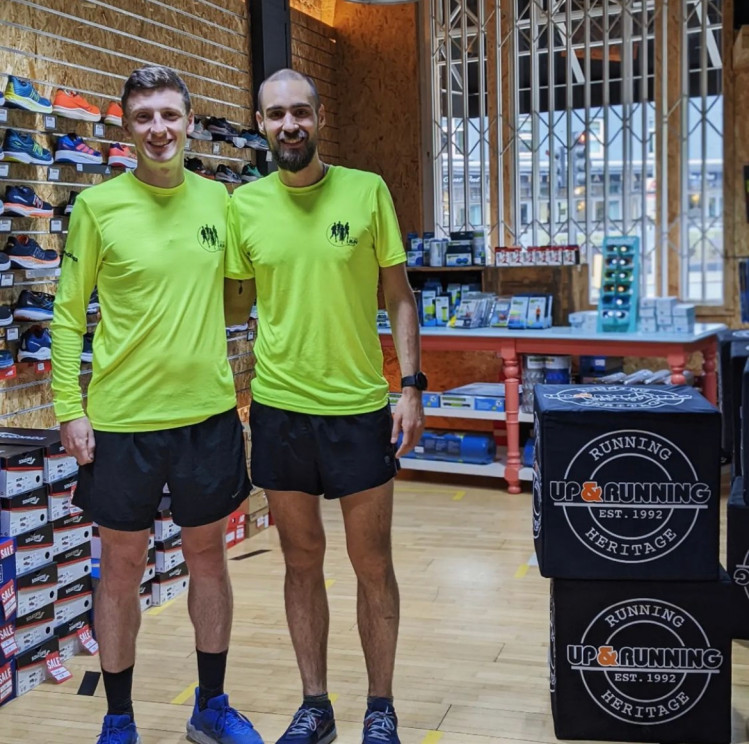 Credit: Up & Running.
In fact, the very same routes are used by St Mary's student Becky Briggs, who just last month won the Therme Manchester Marathon with a huge personal best.
The 22-year-old, who trains regularly in both Royal parks, took five minutes off her personal best to finish in four seconds over 2hours and 29 minutes. The success put her in line for call-ups to the Commonwealth Games, World Championships and Olympics.
Ellis, aged 25, regular leads a gentle 5k run from the Teddington store for locals, which have proved a lot more popular since his shock victory.
After his win over Sir Mo, who has been considering a comeback on the track at the age of 39, Ellis said: "I haven't followed the script have I?
"I didn't believe it until 20 metres from the line when I thought, 'I think I might be able to win this race', and then just gave it absolutely everything I had. I managed to hold on. I'm absolutely delighted."
In fact, his recent success is the result of many hours of hard work and talent, which saw him rise from being an also-ran in his early days at St Marys to the brink international success.
Ellis says his performance improved rapidly during his first year at university, which was helped by his coach Mick Woods. And running aficionados insist his success is not the surprise that some have suggested.
As a youngster, he was a prolific junior athlete. He twice won the English national cross-country in the under-20s, the BUCS 5,000m and also came 15th in the European cross-country championships for the under-23s in 2016.
And in late 2016 he was selected to represent the GB senior team at the Edinburgh International Cross Country race, where the team was led by Sir Mo.
Speaking about his time at St Mary's, he said: "The programme has given me the ability and opportunity to push on in athletics. Without that I would not have had the success that I have done…And massive credit goes to them.
"St Mary's is a unique experience. Athletes get to live and train with training partners, as well as having the Royal parks literally on our doorstep, in Richmond and Bushy Parks, which is perfect for any endurance athlete."
Videos of Becky Briggs in tears as she crossed the line in her Manchester marathon victory have gone viral.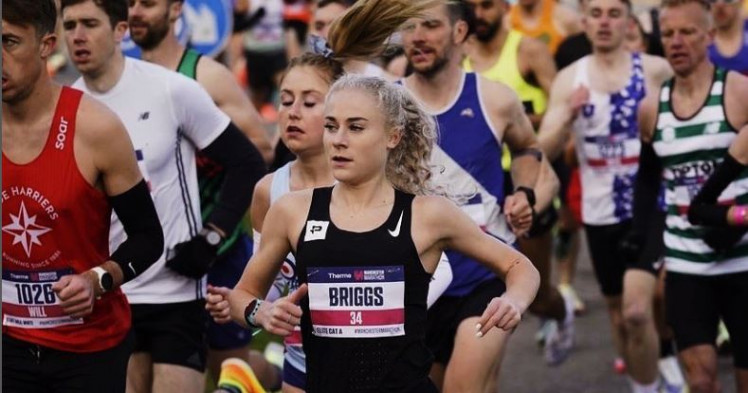 Credit: Becky Briggs.
Celebrating the win on Instagram - https://www.instagram.com/becky_briggs_/?hl=en - she said: "I'm overwhelmed by all the lovely messages,
"From all the videos of the finish, I think it's pretty clear how much that meant today, running has broken and built me."
Becky, who is studying Sports and Exercise Nutrition, has talked of her recovery from an eating disorder as a youngster and has become a champion for sufferers.
The win and time represent a remarkable achievement for a woman of her age and confirms her status as a future star of British athletics. The success means she is now the European U23 Marathon Record Holder.