"This story would make a good book", Park Lane Stables book officially launched in Teddington
By Eli Haidari
ONLY HEROES AND HORSES, the book telling the extraordinary tale of Park Lane Stables and its owner Natalie O'Rourke's £1million campaign to secure the stables future, was officially launched at The Park Hotel in Teddington last night in a special event supported by Teddington Nub News.
Members of the Teddington community and across Richmond borough flooded through the doors to raise a glass to Natalie's remarkable story and listened in to racing broadcaster Nick Luck's interview with the woman of the hour.
After Natalie and her team were informed they had just seven days to raise sufficient funds to prevent the stables from closure, a national effort followed resulting in £1.4 million being raised.
The success of the campaign eventually allowed Natalie and the Trustees of the stables to purchase the entire premises from the landlord and they are now in the final stages of upgrading the facility before the horses and volunteers move back into Park Lane from their temporary home at Manor Farm in Ham.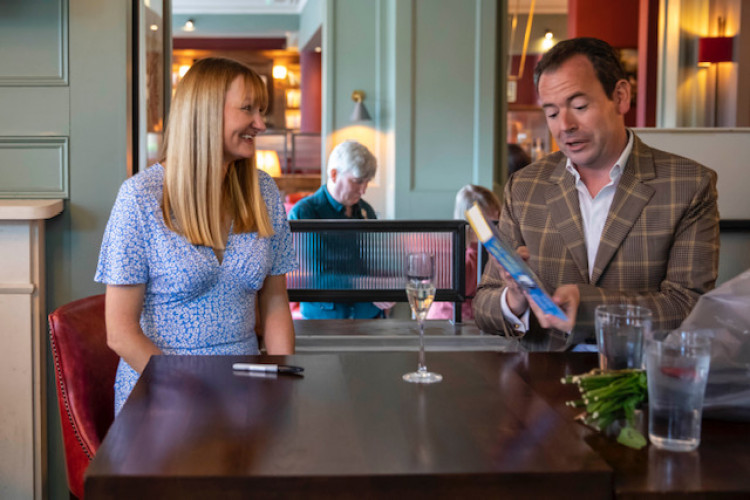 Natalie O'Rourke and Nick Luck discuss Only Heroes and Horses (Photo: Cathy Cooper).
When questioned on her reasons for going forward with Only Heroes and Horses, Natalie stressed it was important for the book to highlight pursuing life-long ambitions and that they are always within reach.
Owning a stable has allowed her to achieve the dream of bringing happiness to people's lives by create an inclusive space for all to acknowledge and experience the joy and respite horses can bring.
Emily Barret, Natalie's publisher said: "Working with her on this book has been such an uplifting experience – I can't adequately describe to you what a gem of a person Natalie is, but readers of this book will get a very good idea!
"It's a testament to what humans can achieve through kindness, optimism and tenacity; the absolute best heart-warming summer read you can hope for."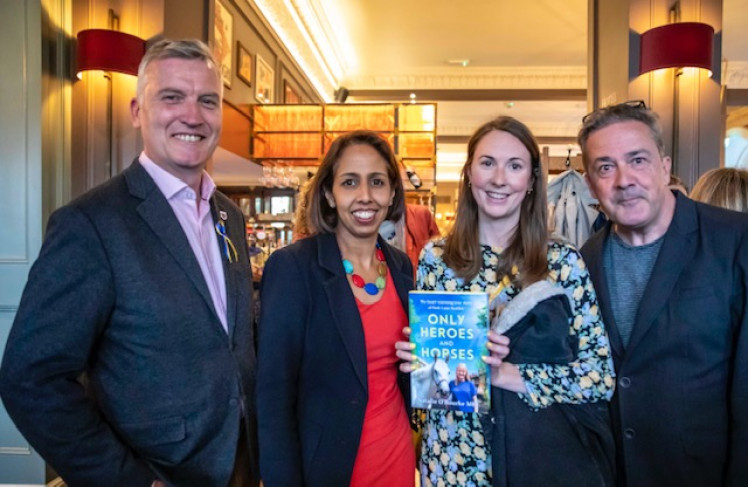 Leader of Richmond Council Gareth Roberts, Lib Dem MP Munira Wilson, Publisher Emily Barret and Trustee for Park Lane Stables Paul Bursche (Photo: Cathy Cooper).
For so long the future of Park Lane Stables has been clouded with uncertainty, but now Natalie has revealed her excitement with cracking on with plans for what lies ahead.
Speaking to Teddington Nub News, which has closely followed her campaign since the start, she said: "It couldn't be more important that moving forward our work reflects the true purpose of the stables, making horses accessible for all.
"Although our priority will be continuing to support the Park Lane family of participants, RDA and pony club members and the groups who come to us with help with their mental health, wellbeing and rehabilitation, our famous 'cuddle door', where passers are greeted by a pony looking onto the street, will continue to be a central feature."
The campaign to save the Park Lane Stables gained national media attention and demand has skyrocketed over the last year. Despite Natalie welcoming the heightened awareness the stable has received, she explained how it will be dealt with caution as what makes people so fond of the stable's environment is its tight knit community and family feel.
Measures will be taken slowly, but she provided reassurance that anyone who does visit can expect nothing less than the warmest of welcomes from the Park Lane Stables.
Only Heroes and Horses is available to purchase now across chosen retailers, Audible or Kindle.
For the chance to purchase your exclusive signed copy, Natalie will be at Kew Bookshop tomorrow afternoon between 12pm-2pm and at Parade's End Books in Ham on Sunday from 3pm-4pm.
All photography courtesy of Cathy Cooper.